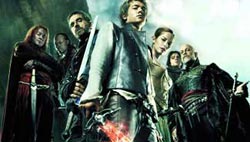 Eragon Movie Swords:
Zar'roc Sword of Eragons


Eragon Zar'roc Swords of Eragon are 51" overall. This magnificent sword has a wine red finish with an unsharpened stainless steel blade. Sword has a solid metal dragon guard with simulated blue sapphire gem pommel. It has a leather wrapped scabbard with antiqued metal fittings. This sword includes a wood display plaque and a certificate of authenticity. These swords are an officially licensed product.


Popular Movie Swords, Knives and Licensed Movie Replicas