Rambo Knives for Sale
Officially Licensed Rambo Knives signature editions are available. Buy the Rambo: First Blood Knife, Rambo II: First Blood Part II Knife, Rambo III Knife and the Rambo 4 Machete. All Rambo Knives are the officially licensed replicas from all of the Rambo Movies. Includes leather sheath and certificate of authenticity.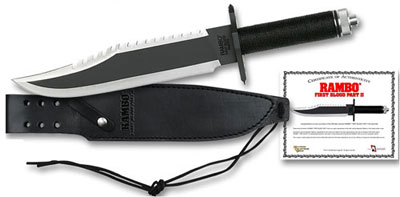 Official Rambo Movie Knives:
Rambo Knife - First Blood Part 2
Price: $119.99



Rambo Knife - First Blood Part II knife is 15 3/8" overall with a 10" sharpened, 1/4" thick 420 J2 stainless steel blade with saw back. The First Blood Part 2 knives feature a push tang construction with a hollow aluminum cord gripped handle that contains an emergency survival kit and a precision compass that is mounted in the pommel. The stainless steel guards incorporate a standard and a Phillips head screwdriver points in the design. Each knife comes complete with top grain custom genuine leather sheath as seen in the movie Rambo II. This is the officially licensed Rambo Movie Knife. Includes certificate of authenticity. Made by Master Cutlery.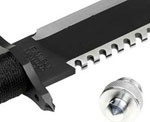 ---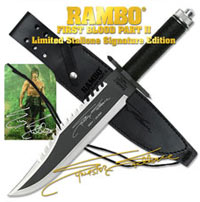 Official Rambo Movie Knives:
Rambo Knife - First Blood Part 2 Sylvester Stallone Edition
Price: $129.99



Rambo II Sylvester Stallone Signature Edition Knife is 15 3/8" overall. Knife has a 10" stainless blade with sawback and matte black finish. Blade features Sylvester Stallone signature etching and serial number. Hollow handle wrapped in heavy black nylon cord with waterproof O-ring and survival kit. Black finish stainless guard with Phillips and standard screwdriver points. Guard also features lashing holes. Non-magnetic aluminum pommel with precision compass and lanyard hole. Unscrew pommel to access survival kit. Top grain leather belt sheath with leg tie features signature etch. Certificate of authenticity. Also comes with 8x10 signed color print of Sylvester Stallone. Limited edition of 10,000 produced. Made by Master Cutlery.