Rambo Knives for Sale
Officially Licensed Rambo Knives signature editions are available. Buy the Rambo: First Blood Knife, Rambo II: First Blood Part II Knife, Rambo III Knife and the Rambo 4 Machete. All Rambo Knives are the officially licensed replicas from all of the Rambo Movies with Sylvester Stallone. All of these collectible knives include a leather sheath and a certificate of authenticity.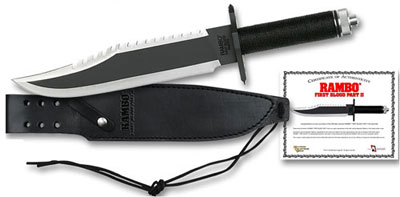 Official Rambo Movie Knives:
Rambo Knife - First Blood Part 2
$119.99



Rambo First Blood Part II Knife is the officially licensed knife from the movie Rambo Part Two. The knife is 15 3/8 inches overall with a 10 inch sharpened blade. The blade is ¼ inch thick and manufactured of 420J2 stainless steel. The blade has a saw back. These knives feature push tang construction. The aluminum cord gripped handle is hollow and disguises an emergency survival kit. The survival kit consists of a fishing line, hooks, sinkers and matches. The pommel of the knife contains a precision compass. The stainless steel guard has both a standard and Phillips head screwdriver point incorporated in the design. Each knife includes a top grain, custom genuine leather sheath as seen in the movie Rambo: First Blood Part II that was carried by John Rambo. This is the officially licensed Rambo movie knife for sale from the First Blood Part Two Rambo movie starring Sylvester Stallone. These knives include a Certificate of Authenticity identifying them as official movie replicas. Buy the authentic licensed movie replicas made by Master Cutlery.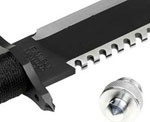 ---