Bushido Swords, Bushido Wakizashi and Bushido Tanto
Bushido Swords from Hanwei, Masahiro and United Cutlery. Bushido, the Japanese word for Way of the Samurai, is represented in this category that includes authentic, hand-forged Japanese and Samurai Katanas. Some of the swords for sale can be disassembled for care and maintenance, though these sharp, real swords should be handled with care.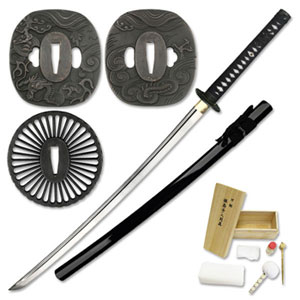 Full Tang Bushido Swords:
Full Tang Bushido Swords Black
$119.99


Bushido Swords by Masahiro are functional and handmade Samurai Swords. They feature a 28 inch blade with a blood groove. The katana blade is created of extremely sharp, high carbon steel. These traditional, samurai swords have a full tang construction and measure 42 3/4 inches overall. The tsuba is made of a two color zinc alloy. This sword has an authentic ray skin wrapped handle with sageo braid. The sageo is a hanging cord which is used to tie the saya to the belt when it is being worn by the Samurai. The handle has a double pegged design which permits the sword to be disassembled. This is one of the Bushido swords offered for sale that may be disassembled for care and maintenance. Please note, however, these are extremely sharp and should be handled with care. This item also includes a black lacquered wooden saya. Saya is the Japanese word for the scabbard. Because the saya of this sword is manufactured of a lightweight wood, coated in lacquer extreme care should be used when drawing the katana from the scabbard.