American Owned and Operated - 100% American Based Customer Service - Custom Laser Engraving - No Accounts Required
Bushido Swords for Sale
Bushido Swords for sale are available from popular manufacturers like Ten Ryu, Musashi, Hanwei and more. All of these traditional Japanese swords feature sharpened blades and include scabbards. This collection includes samurai katanas, tanto and wakizashi length pieces. Buy Bushido swords, samurai katanas and more all on sale now.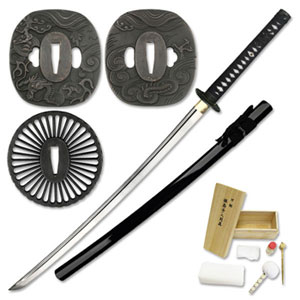 Full Tang Bushido Swords:
Full Tang Bushido Swords Black
$119.99


Black Bushido Swords for sale feature a functional and handmade samurai katana style blade. These swords measure 40 inches in all. They have a 1045 carbon steel blade that features a heavy blood groove. The samurai katana blade is 28 inches of hand forged steel and has a blade thickness of 7mm. These swords are full tang. The handle has a traditional Japanese wrap that is crafted of black cotton and ray skin. These Bushido swords include a cotton sword bag and a sword maintenance kit. This is one of the Bushido swords offered for sale that may be disassembled for care and maintenance. Please note, however, these are extremely sharp and should be handled with care. This item also includes a black lacquered wooden saya. Buy the Black Bushido Swords for $119.99.