Tai Chi Swords
Our category of Tai Chi swords has a variety of sizes and styles including Hanwei Taiji Swords. Other collections for sale include the Hsu Series Jian Tai Chi Swords, the Hsu Two-Handed Jian designed by world-renowned Martial Arts Master Sifu Adam Hsu, Damascus Steel Tai Chi swords and other assorted styles.
---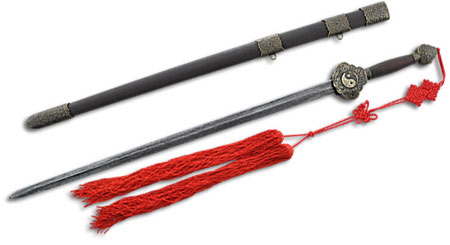 Tai Chi Swords:
Tai Chi Swords with Damascus Steel


These Damascus Tai Chi Swords by have a 37 1/4" overall length. These top of the line swords have a 28.25" sharpened hand forged Damascus steel blade with a point of balance at 5.16". Sword has a rich grain rosewood grip 6.5" handle with antique brass finish guard and pommel. Red tassel hangs off of the pommel. Rich grain rosewood scabbard with solid bronze fittings is included. This sword is 1 lb 11oz.

---