Sword Care and Blade Maintenance
Sword Care and Blade Maintenance Supplies. We carry an assortment of blade care essentials. Sword Maintenance Kits, Blade Polishing Paste, Polishing Cloths, Sword Oil, Rust Erasers and Blade Sharpening Stones in various grits are available.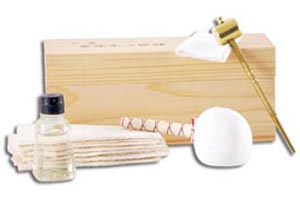 Sword Care:
Swords Maintenance Kit
$34.99


The Traditional Maintenance Kit from Hanwei is supplied with each piece in the Performance and Classic series (excluding practical swords) and is also available separately. The kit contains blade oil, rice papers, an oiling cloth, a powder ball for blade polishing, a brass awl and hammer and saya shimming veneer. The kit is contained in a fitted wooden box and full maintenance and handling instructions are included.