American Owned and Operated - 100% American Based Customer Service - Custom Laser Engraving - No Accounts Required
Sword Sets for Sale
Sword Sets for sale are available in a variety of themes. Choices of sword sets include ninja, roman and samurai katana sets. Most ninja and roman sets feature a scabbard that can hold all of the swords. The samurai sword sets typically include a katana and two other Japanese swords along with a tabletop display stand. Buy all kinds of popular sword sets and displays on sale now.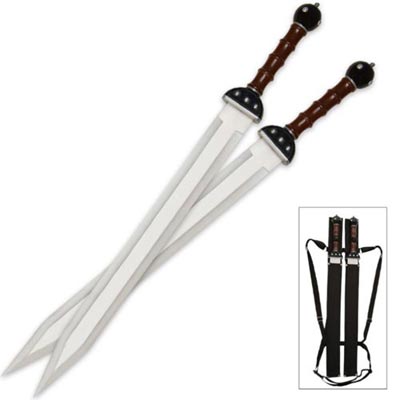 Swords Sets:
Roman Warrior Swords Set
Includes Back Scabbard
$39.99


Roman Warrior Swords Set for sale features two stainless steel gladiator swords. This popular set contains two matching Roman swords that measure 25 ¾ inches overall. The sharp, stainless steel blade is 18 ½ inches long. Similar to authentic Roman swords, both of these swords have a traditional grooved handle. The handle offers the Roman Warrior tight and comfortable gripping ability. The guard and pommel are made of sturdy ABS construction. Lastly, in order for the Roman Warrior to carry his swords, this set includes a heavy-duty double nylon sheath with shoulder straps. Buy these Roman Warrior Swords for a traditional Roman appearance with modern day construction for $39.99.