American Owned and Operated - 100% American Based Customer Service - Custom Laser Engraving - No Accounts Required
Ninja Swords for Sale
Ninja Swords for sale are available in all types of sizes. Ninjato, Ninjaken or Shinobigatana are the names used for the type of sword wielded by the Ninja of ancient Japan. Although the traditional length was short, full length swords with a square tsuba have also become referred to as Ninja Swords. Buy all types of functional and display Ninja Swords on sale now.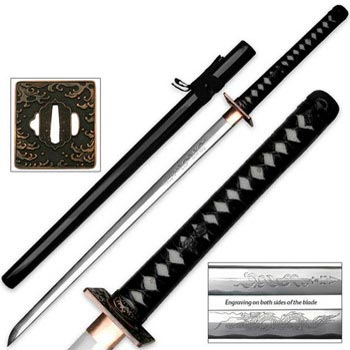 Ninja Swords:
Traditional Ninja Swords
$119.99


Ten Ryu Ninja Swords for sale have a functional high carbon steel blade. They are 41 inches in all and have an engraved 28 inch ninja style blade. The sharpened blade is folded and made of hand forged 1060 carbon steel. The two color square Tsunami tsuba is crafted of cast zinc alloy and features an ornate scroll and wave pattern. The traditional style handle features authentic ray skin with a traditional Japanese cord wrap. These popular full tang swords also include a wooden scabbard that has a black lacquer finish. Buy these Traditional Ninja Swords for $119.99.