American Owned and Operated - 100% American Based Customer Service - Custom Laser Engraving - No Accounts Required
Ninja Swords for Sale
Ninja Swords for sale are available in all types of sizes. Ninjato, Ninjaken or Shinobigatana are the names used for the type of sword wielded by the Ninja of ancient Japan. Although the traditional length was short, full length swords with a square tsuba have also become referred to as Ninja Swords. Buy all types of functional and display Ninja Swords on sale now.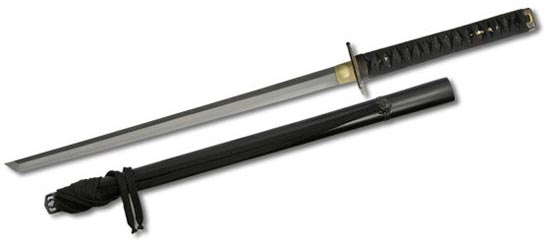 Ninja Swords:
Practical Shinobi Ninja Swords II
Forged High Carbon Steel
$259.99


Practical Shinobi Ninjato Swords for sale are 34 ½ inches in all. These popular ninja swords have a sharpened and hand forged 1566 high carbon steel blade. The 22 ¾ inch blade is differentially hardened using a traditional claying method. All of the black iron fittings feature an antique finish. The tsuba has a Kuji-Kiri motif, the hand positions used to channel energy by the ninja. The 10 ¼ inch handle features synthetic black rayskin and a durable synthetic black leather traditional wrap. These ninja swords weigh 1 pound 14 ounces and have a point of balance at 4 ½ inches. The guard has a 1.13 inch width and 0.27 inch thickness. The tip has a 0.85 inch width and 0.22 thickness. The scabbard features a flat black finish, demon head bindings and black Japanese cotton sageo. Buy the Practical Shinobi Ninjato Swords for $259.99.