Fantasy Swords by Kit Rae and Gil Hibben
Fantasy Swords from master sword makers such as Kit Rae and Gil Hibben. Kit Rae uses a mixed media approach to design his fantasy swords and includes art prints and display plaques with most of his works. For sale are many of the fantasy swords and weapons chronicled in his Swords of the Ancients Collection, a fantasy story that crosses through numerous centuries and legends and is reminiscent of the works by JRR Tolkien. Gil Hibben's talents include designing fantasy swords and knives for over 37 films and TV series many of which are featured in our movie sword category. He has also created a Damascus-bladed fantasy sword for sale. Buy a limited edition or standard edition sword from one of the finest fantasy sword makers in history.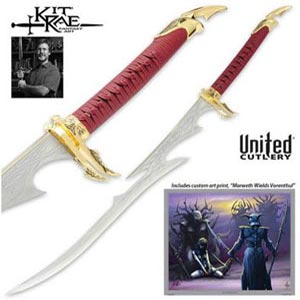 Kit Rae Swords:
Vorenthul Sword of Avonthia Gold Edition
$169.99


Kit Rae Vorenthul Swords are one of the fantasy swords chronicled in Kit Rae's Swords of the Ancients Collection, a fantasy legend that winds through numerous centuries, legends and myths. These swords have a 29 inch blade and measure 42 1/2 inches overall. The Gold Edition of the Vorenthul features 24k gold plated hilt parts and a genuine leather wrapped grip. The production of these swords is strictly limited to 300 pieces worldwide. Each sword is laser engraved with an individual serial number and the Kit Rae emblem. These limited edition fantasy swords include a custom art print, and a certificate of authenticity hand signed by Kit Rae. The Vorenthul was one of the three swords of Avonthia. The Avonthians were three brothers, sons of a king in ancient times, who were charged with imprisoning the deathless spirit of the Dark One in the depths of the earth as told in the Swords of the Ancients mythology.