Sword Canes, Movie Replicas and Walking Sticks
Sword Canes, Movie Replicas, Walking Sticks, and Zatoichi Swords for sale in a variety of styles and sizes. These unique items are great corporate and executive gifts. We carry decorative cane swords to fully functional tools for self defense. Movie sword canes and elegant walking sticks are also available in polypropylene construction and all steel versions. Buy these popular items for as little as $24.99.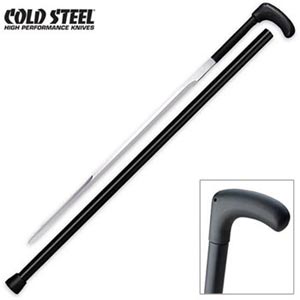 Sword Canes:
Heavy Duty Sword Canes
$129.99



Cold Steel Heavy Duty Cane Swords for sale measure 38 5/8th inches in all. These walking canes contain a 24 ¼ inch 1055 carbon steel blade inside the shaft. Cold Steel made this cane in an effort to combine orthopedic support, style and a functional samurai sword blade. The Heavy Duty Sword Canes have a partial crook handle made that is made from Grivory. These popular canes have a black 2 mm thick, aluminum shaft that has been heat treated for strength. The shaft is handsomely tapered and capped with a thick rubber ferrule. The rubber ferrule offers increased traction. To release the functional blade in the Cold Steel Heavy Duty Sword Cane, simply use a swift, hard tug on the handle to break the suction of the friction lock. The blade is manufactured of 1055 Carbon steel and has a strong sharp point and a fully sharpened back edge.