Sword Canes and Walking Sticks
Sword Canes, Walking Sticks, and Zatoichi Swords for sale in a variety of styles and sizes. We carry decorative cane swords to fully functional self defense items. Walking sticks are available in polypropylene construction and all steel versions.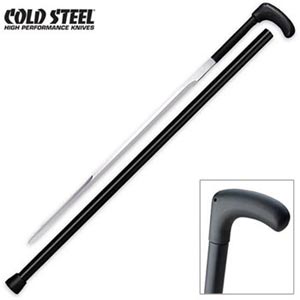 Cold Steel Heavy Duty Sword Canes
$119.99



Heavy Duty Cane Swords are 37 1/2 inches overall. This unique cane has a 24 ¼ inch 1055 carbon steel blade. This cane was designed to offer both orthopedic support and style. It has a partial crook handle made from Grivory with a black 2 mm thick, aluminum shaft cane that has been heat treated for strength. The shaft is handsomely tapered and capped with a thick rubber ferrule for better traction on slick, icy sidewalks or uneven terrain. The concealed sword in the Heavy Duty Sword Cane is easily released by a hard, quick tug on the handle to break the suction of its friction lock. It is an extremely formidable sword too, made from 1055 Carbon steel, a little over 24 inches in length and 5.5mm thick. It is sturdy enough for both cutting and thrusting, with one long cutting edge, a strong sharp point, and a fully sharpened back edge.

---