Sword Canes and Walking Sticks
Sword Canes, Walking Sticks, and Zatoichi Swords for sale in a variety of styles and sizes. We carry decorative cane swords to fully functional self defense items. Walking sticks are available in polypropylene construction and all steel versions.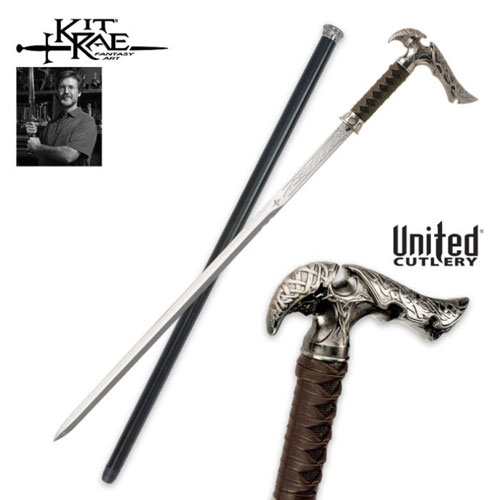 Sword Canes:
Kit Rae Axios Sword Canes
$119.99


Kit Rae Axios Sword Canes for sale conceal a sharp 23 inch, 1045 carbon steel blade in what appears to be an elegant walking cane. The functional, real blade is imprinted with intricate scrollwork designs. Designed by Kit Rae and manufactured by United Cutlery, these canes measure 39 inches in length. The hardwood cane shaft is painted black with coordinating accents. The Axios Sword Canes have rayskin and leather wrappings on the handle. The handle controls a secret button that releases the securely locked blade from the cane shaft. The substantial handle is manufactured of cast metal with heavy metal fittings and a heavy metal hilt. The handle construction makes gripping comfortable and secure. Buy Kit Rae Axios Sword Canes for self defense function in a eye-catching package.

---