American Owned and Operated - 100% American Based Customer Service - Custom Laser Engraving - No Accounts Required
Sword Care and Blade Maintenance
Sword Care Supplies for sale are made to enhance all types of blades. Maintenance kits include supplies to keep blades clean, benchstones and water stones for sharpening, sword oil for inhibiting rust and polishing cloths and pastes to keep blades clean. Buy all types of sword maintenance supplies on sale now.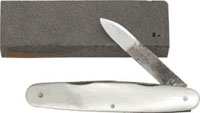 Sword Care:
Rust Eraser 2 PK
Includes Two Rust Erasers
$9.99

Rust Eraser for sale is specially designed for use as an all purpose polisher, cleaner and rust remover. They can be used for all types of blades and popular metals such as high carbon steel. To use this product, begin by testing a small area prior to using it on main areas of a sword or blade. The eraser produces a fine, brushed satin finish effect. The eraser can then be carefully used to clean and polish rust, tarnish and surface blemishes on swords and other types of blades. This popular item is available in a set of two rust erasers. Each of these erasers measures approximately 3 inches, by 1 inch by 9/16th. This item is great for cleaning swords, knives and other steel collectibles. Buy this set of two Sword Blade Rust Erasers for only $9.99.