American Owned and Operated - 100% American Based Customer Service - Custom Laser Engraving - No Accounts Required
United Cutlery Swords for Sale
United Cutlery Swords are available in assorted styles. Officially Licensed movie swords including the Lord of the Rings and The Hobbit Movie Swords are available. Additionally, United Black offers functional Samurai Swords and Tachi Swords. The blade tang has an exclusive stamp that can only be found on a United Black sword blade.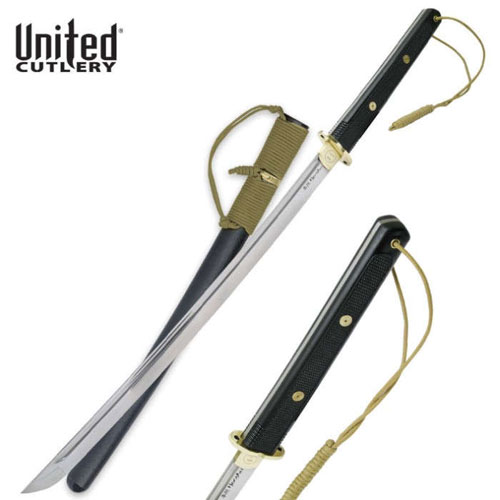 Honshu Swords:
Tactical Wakizashi Swords
$139.99


Tactical Wakizashi Swords for sale are manufactured by Honshu and measure 30 3/8th inches in all. These popular wakizashi swords have a full tang, fully functional sharpened blade that measures 19 ¾ inches. The samurai style blade has a mirror polish and is manufactured of high carbon steel. The Honshu Tactical Wakizashi features a deep blood groove on the blade. The handle of the Tactical Wakizashi features non-slip, checkered PolyABS scales which provide a more secure, functional grip. The handle has solid brass dowel rod bolts. The Tactical Wakizashi also features a lanyard crafted of ParaCord which may be untied and used as a lashing cord. Honshu manufactured the hand guard of real solid brass that is drilled with lashing holes. The Tactical Wakizashi includes a solid wood and polycarbonate scabbard. The scabbard has coordinating functional ParaCord wrap and a solid brass cord fitting. Popular with the military, these tactical swords include a storage cloth. Buy these genuine Tactical Wakizashi Swords by Honshu for just $139.99.