American Owned and Operated - 100% American Based Customer Service - Custom Laser Engraving - No Accounts Required
Shinwa Samurai Katana Swords
Shinwa Swords for sale are hand-forged, handmade and feature folded Damascus steel blades. The folding process creates unique blade patterns on each of these traditional Japanese swords. Buy these functional sharpened swords available with samurai katana, Nodachi and ninja blades in all types of popular colors and designs.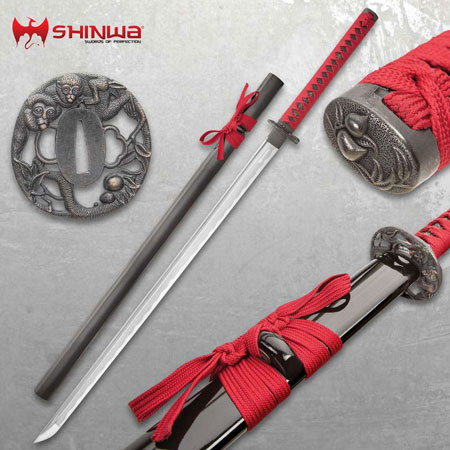 Shinwa Katana Swords:
Red Knight Katana Swords
Damascus Steel
$119.99


Red Knight Samurai Katana Swords for sale have a Damascus steel blade and a red handle. These Japanese swords measure 41 3/8 inches overall. The 28 ¼ inch blade is straight and crafted of hand-folded Damascus steel. Made by Shinwa, these Japanese swords feature a sharp, straight katana blade. The Damascus steel blade is heat-forged at over 1000 degrees and folded to provide 2000 layers of strength. Consistent with the design of authentic samurai katanas, these swords have a substantial blood groove on the sharpened blade. The handle is crafted of hardwood and features authentic ray skin with red nylon cord wrap and a brass menuki. The tsuba is made of cast zinc metal. These popular katanas also include a matching scabbard. Buy these Red Knight Samurai Katana Swords for a sharp, real samurai sword for $119.99.