Masahiro Swords for Sale
Samurai Swords in assorted styles for sale by Masahiro. These are affordable full tang Samurai Swords, Bushido Swords, Japanese Swords and specialty design Samurai Swords. These are functional, sharpened, high carbon steel swords.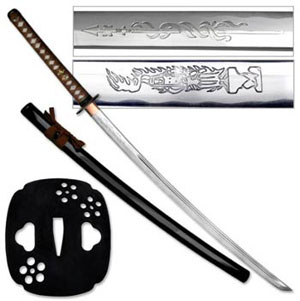 Samurai Swords by Masahiro 44"
Price: $99.99


Samurai Swords by Masahiro, these beautiful and functional full length Samurai Swords are handmade sharpened carbon steel. These swords are a full tang construction at 44" overall. It has a 30" blade. Sakura guard with genuine brown ray skin wrapping on handle. Handle length is 13" overall. Blade is beautifully etched with Samurai designs. Includes lacquered wooden saya (scabbard). Also includes Masahiro sword bag.