Reverse Bladed Katana Swords
Swords Direct is one of the largest online swords collections to buy real swords, display and battle ready Medieval Weaponry. All types of swords including, Medieval Swords, Practical, Reenactment, Fencing Rapiers, Tai Chi, Movie Swords, Samurai Swords, Ninja, Viking, Scottish, Practice, Long Swords and Scimitars.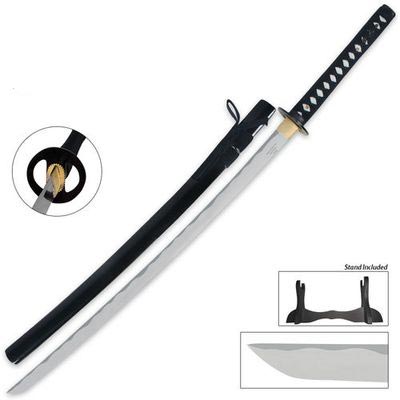 Reverse Edge Katana Swords:
Reverse Bladed Katana Swords
Price: $59.99

These Reverse Bladed Katana Swords are made of carbon steel. The top side of the carbon steel blade is sharpened. The blade is completed by a metal guard and cord wrapped ray skin handle. It includes a coordinating hardwood sheath with cord wrappings as well as a display stand so you can display this highly detailed reproduction proudly. Measures 40" overall.

Double Edge Katana Swords:
Cold Steel Imperial Series Double Edge Katana Swords
Price: $599.99


Cold Steel Swords Imperial Series Double Edge Katana Samurai Swords are 39.25" overall. These swords have a 28.75" double edged 9/32" thick blade. These high quality swords feature sharpened 1055 carbon steel blade with blood groove. It has a 10.5" handle with genuine rayskin with black silk braid cord wrap. Tsuba, Collar and Pommel are crafted of nickel-silver brass. Wood scabbard with black lacquered finish and blue cloth storage sleeve.