American Owned and Operated - 100% American Based Customer Service - Custom Laser Engraving - No Accounts Required
Professional Utility Tools for Sale
Professional utility tools for sale include multi-purpose tools, axes and tomahawks. Designed for a variety of purposes, all types of tools are available for military, law enforcement and rescue professionals. Buy all kinds of popular bladed and functional items on sale now.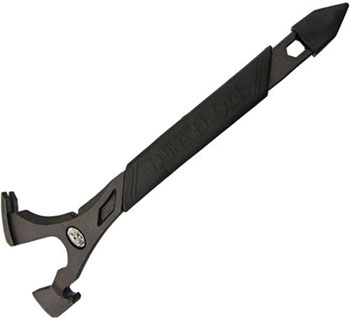 Professional Utility Tools:
Annihilator Wrecking Bar
$49.99


Annihilator Wrecking Bar for sale is 14 1/4th inches in all. The Annihilator Wrecking Bar is a powerful and popular professional utility tool manufactured of heavy forged steel. They have a black finish with a black rubber grip. These multi functional tools have excellent balance provided through their overall weight-to-length ratio. The Annihilator Wrecking Bar has a variety of built in features like a demolition hammer and built-in bottle opener. They also have a board straightening function which can adjust boards into the proper position before tacking. They have a nail puller and tile ripper and a demolition axe which can be used to rip through dry wall, wood, shingles, and also strips conduit. They also have a multi-purpose wrench/nail puller and a chisel. These multi-purpose tools are essential for a variety of projects. Buy the 14 inch Annihilator Wrecking Bar for $49.99.
---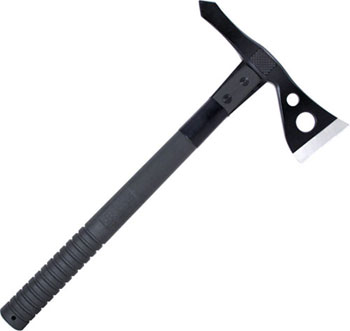 Professional Utility Tools:
SOG Tactical Tomahawaks
Includes Custom Sheath
$49.99


SOG Tactical Tomahawk for sale is manufactured by SOG Knives who based the design upon the Vietnam Tomahawk. SOG updated this design into a contemporary and functional tool. The Tactical Tomahawk measures 15 ¾ inches in all. Popular with the military, it features a black Hardcased coated 420 stainless steel axe head. The blade measures 8 ¼ inches and features a 2 ¾ inch cutting edge with an RC Hardness of 51-53. The straight style axe head is mounted to the handle with heavy duty bolts and a steel ferrule for stability. The handle is a tough fiberglass reinforced nylon material. For the utmost in function and tactical performance, they feature side hammer checkering which assists in proper placement when pounding. In order to easily carry the 24 ounce Tactical Tomahawk in the field, they also include a nylon sheath. These versatile survival Tomahawks are an excellent companion for camping, military operations and tactical use. Buy the SOG Tactical Tomahawk for $49.99.
---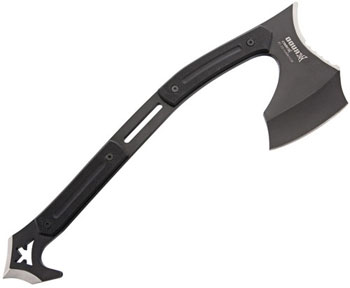 Professional Utility Tools:
Khatchet Tactical Tomahawks
Includes Custom Sheath
$159.99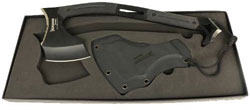 Krudo KHatchet for sale are 15 1/4th inches in all. The KHatchet tactical tomahawk is crafted from a single piece of 1/4th inch thick 9Cr14MoV Stainless Steel. The customized handles are made of G10. These one handed axes are designed by Louis Krudo and can be used sheathed for hooking and prying or unsheathed for maximum cutting power. They have a 3 ½ inch blade edge and a hollow grind. They include a Kydex sheath and a KHatchet Custom Storage box. Buy the Krudo KHatchet tactical tomahawk for $159.99.
---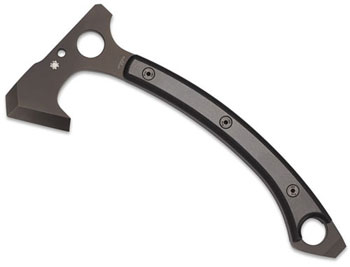 Professional Utility Tools:
SzaboHawk Axe
Includes Custom Sheath
$209.99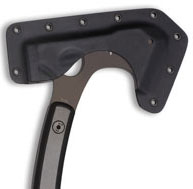 SzaboHawk Axe for sale is 11.88 inches in all. Designed by Laci Szabo, the SzaboHawk is a modern tomahawk constructed from a solid billet of .300-inch-thick D2 tool steel that has a durable black Titanium Carbonitride (TiCN) coating. The TiCN coating helps to protect the steel against corrosion while eliminating reflection. Each SzaboHawk is hand finished prior to coating. The full-tang curved handle has full-length G10 scales which are securely attached to it via three sets of Allen screws. The scales have radiused corners for a secure but comfortable grip. To ensure the strength of the blade, the cutting edges are flat ground. The blade length is 4.88 inches with a 2.16 inch cutting edge and a blade thickness of 0.30. They weigh 24.9 ounces. They have a functional hammer poll on the other side of the head. They include a custom-molded Boltaron® sheath. They also include a padded zipper pouch. Buy the SzaboHawk, a modern tomahawk for $209.99.