Masahiro Swords for Sale
Samurai Swords in assorted styles for sale by Masahiro. These are affordable full tang Samurai Swords, Bushido Swords, Japanese Swords and specialty design Samurai Swords. These are functional, sharpened, high carbon steel swords.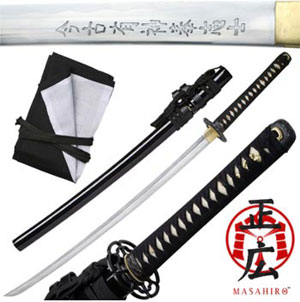 Japanese Swords:
Dignity and Honor Japanese Swords
Price: $99.99

Swords by Masahiro, these swords are 40" overall. It has a 28" blade with a 10.5" Handle. Captain Nathan Algren Tachi is hand forged with high carbon steel 1065 in Sinogi Zukui shape. It has a Tri-polished mirror finish on Shinogi-ji. It is engraved with Japanese horimono (Serve with dignity and honor). Japanese silk wrapped tsuka with real ray skin. Includes black lacquer finish scabbard and black cotton sword bag.