American Owned and Operated - 100% American Based Customer Service - Custom Laser Engraving - No Accounts Required
Ten Ryu Swords for Sale
Ten Ryu swords for sale are handmade using traditional Japanese methods such as hand sharpening and hand forging. The result of using this traditional Japanese sword making process is a durable and functional full tang sword. The high carbon steel blades are heat treated and cooled in order to provide both strength and flexibility. Ten Ryu even hand fits each blade to the scabbard to create a truly secure fit. Buy these popular Ten Ryu swords on sale now.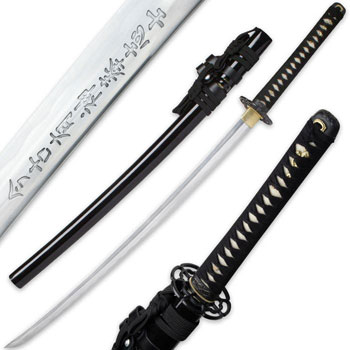 Japanese Swords:
Captain Nate Algren Swords
$119.99


Captain Nate Algren Swords for sale are 41 inches in all. These swords are inspired by the sword used by Captain Nate Algren in the movie the Last Samurai. They feature a functional 28 inch carbon steel blade that is hand forged and 7mm thick. They have a dignity and honor motif and feature an engraved inscription on the Shinogi Zukui shaped blade. The handle feature a traditional Japanese silk wrap over real ray skin. The wooden scabbard has a polished black lacquer finish. These samurai swords are made by Ten Ryu and include a sword bag. They are full tang and have a brass plated habaki and menuki. Buy the Captain Nate Algren Swords inspired by the Last Samurai Movie for $119.99.