American Owned and Operated - 100% American Based Customer Service - Custom Laser Engraving - No Accounts Required
Fencing Swords for Sale
Fencing Swords and rapiers for sale include a variety of functional, stage combat and display swords. These pieces feature traditional and historical designs like the famous swept hilt rapier. Buy all types of popular fencing swords and rapiers on sale now.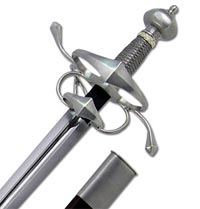 Fencing Swords:
Sharpened Rapier Side Fencing Swords


Renaissance Side Swords are 37 3/4" overall. These fencing swords have a 30 1/8" functional high carbon steel blade and wire wrapped 5.5" handle. These are Swept Hilt swords and include a black leather scabbard with metal fittings. Styled after a German Military piece from the Renaissance Period, these swords were used primarily during the 16thand 17th Century. The blade is fashioned for cutting and thrusting. Weighs approximately 2 lbs 8 0z. Individual specifications may vary slightly per sword.