Fencing Swords for Sale
Fencing Swords category includes Swept Hilt Rapiers, Stage Combat Swords and Main Gauche. Many of the fencing swords have high carbon steel blades with blunt tips. Also offered is a great selection of high-carbon flex-tempered steel blades, Practical stage combat rapiers with unsharpened high carbon steel blades with button tip and Renaissance style fencing swords.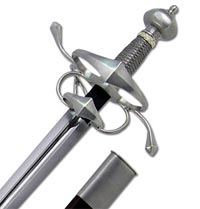 Fencing Swords:
Sharpened Rapier Side Fencing Swords
Price: $359.99


Renaissance Side Swords are 37 3/4" overall. These fencing swords have a 30 1/8" functional high carbon steel blade and wire wrapped 5.5" handle. These are Swept Hilt swords and include a black leather scabbard with metal fittings. Styled after a German Military piece from the Renaissance Period, these swords were used primarily during the 16thand 17th Century. The blade is fashioned for cutting and thrusting. Weighs approximately 2 lbs 8 0z. Individual specifications may vary slightly per sword.

---

Fencing Swords:
Leather Fencing Sword Belt with Frog
Price: $39.99
Sword Belt with Universal Frog. This sword belt is made of black leather with an attached frog and metal skull and crossbones accents. This item will hold a sword, main gauche, dagger or dirk.
---