American Owned and Operated - 100% American Based Customer Service - Custom Laser Engraving - No Accounts Required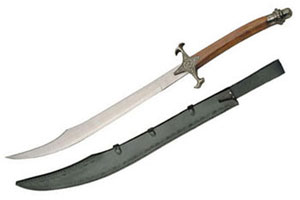 Raider Scimitar Swords
$59.99


Raider Scimitar Swords for sale measure a strapping 39 inches overall. The sharpened 24 ¼ inch blades are made of stainless steel. The wooden handle of these scimitar swords features a pewter finish cast metal guard and pommel. The guard is engraved with intricate medieval designs. They include a black imitation leather scabbard which features snaps to contain the sword when not in use. These scimitar swords feature the distinctive design of a traditional scimitar with the power fit for any pirate or marauding raider. Buy these popular scimitar swords for $59.99.
---

Sword of the Dragon Emperor
$59.99


Dragon Emperor Swords for sale have an intricately detailed cast metal pommel and guard and weigh approximately 3.55 pounds. This traditional Japanese sword includes a wooden scabbard with cast metal details. Dragon Emperor Swords measure 28 ½ inches in length. The handle is covered in faux leather. The stainless steel blade is 20 inches and features a double edge with an antiqued appearance. Buy these Dragon Emperor Swords for a traditional and antique appearance for $59.99.

Popular Movie Swords, Knives and Licensed Movie Replicas