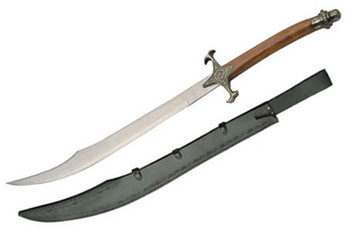 Scimitar Swords
$59.99


These massive Scimitar Swords are 39" overall with a 24 1/4" sharpened stainless blade. They have a wood handle with pewter finish cast metal guard and pommel. Sword includes a black leather scabbard.
---

Sword of the Dragon Emperor
$59.99


Sword of the Dragon Emperor is 28 1/2" overall. These swords have a 20" double edge stainless steel blade with antique finish. They have an imitation leather wrapped handle with cast metal detailed guard and pommel. Includes a wooden scabbard with cast metal details.