Medieval Swords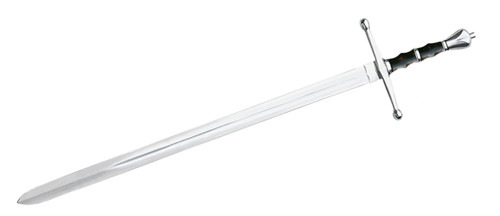 Medieval Swords:
War Swords
Price: $279.99



Item Number: MDL54079
Handmade Item > Functional Sword
Overall Length: 40"
Blade Length: 32"
Handle Length: 8"
Cross Guard: 8"
Blade Type: Full Tang
Blade Material: Sharpened, Tempered Hand Hammer Forged High Carbon Steel
Handle Material: Custom Finger Grooved Macassar Ebony Wood
Sheath Included: Custom Genuine Brown Leather Scabbard
War Swords: With its fully forged 32 inch diamond cross section blade, this straight double edged sword has the speed and mass to cleave limbs and splinter shields like the swords of legend. Common through out the 14th and into the 15th century, swords of this type are depicted in the German fencing master Hans Talhoffers famous fencing manual. Though perfectly suited for being wielded with one hand the hard wood handle and scent stopper pommel offer enough room to double up on the grip for greater power when needed. Capable of great speed and power these swords would be more than adequate to see the skilled swordsman through any conflict. A leather scabbard is included with this sword.

---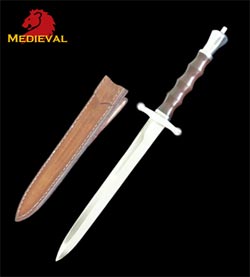 Medieval Swords:
War Daggers
Price: $129.99



Item Number: MDL54179
Handmade Item > Functional Dagger
Overall Length: 20"
Blade Length: 12"
Handle Length: 8"
Handle Grip: 5"
Cross Guard: 3.5"
Weight: 1lb. 3oz.
Blade Type: Full Tang
Blade Material: Tempered Hand Hammer Forged High Carbon Steel
Handle Material: Custom Finger Grooved Macassar Ebony Wood
Sheath Included: Custom Genuine Brown Leather Scabbard
Medieval War Dagger: This attractive handmade, functional medieval dagger is 20" overall. This dagger features a 12 inch tempered, full tang, fully sharpened, high carbon steel blade. It has a custom finger grooved Macassar Ebony Wood handle. The classic style guard, pommel and all fittings are made of solid steel for durability. A custom brown leather sheath is included.
---
Next Functional Medieval Sword >
Back to: Medieval Swords Main Page