American Owned and Operated - 100% American Based Customer Service - Custom Laser Engraving - No Accounts Required
Practice Swords for Sale
Practice Swords for sale are available in a variety of materials. Popular trainers include wooden, foam, bamboo and polypropylene construction that are ideal for sparring. Buy all types of training and unsharpened swords on sale now.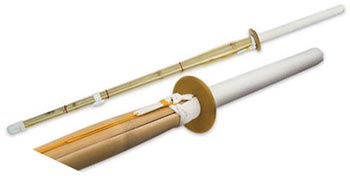 Practice Swords:
United Bamboo Practice Swords
$24.99


Bamboo Practice Swords for sale are crafted of wood. Kendo, the Japanese term for way of the sword, is a Japanese martial art that features bamboo swords such as this one in practice and in competition. These bamboo swords, also called shinais, measure 44 inches overall. The solid, bamboo construction makes these shinais popular for use in kendo practice. These function swords feature a leather wrapped handle. Buy these wooden practice swords, the United Cutlery Kendo Shinai for $24.99.