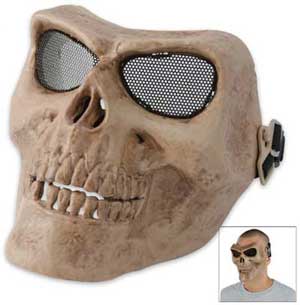 ABS Military Skeletal Soldier Full Face Mask
Price: $39.99





This military soldier skeletal face mask offers full face coverage. Eco-friendly, odor-free, and poison-free ABS construction ensures that you can wear it safely and comfortably. The mesh covered eye holes provide good eye coverage while offering great, fog-proof visibility. Foam padding accents, an adjustable elastic strap, and durable but lightweight construction ensure a good, comfortable fit. Often used in military training and field operations, this mask makes the perfect addition to your soldier collection. It's also great to use in a game of paintball.

---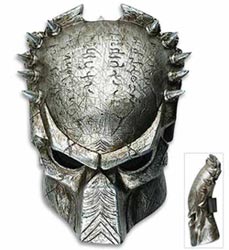 Predator Mask
Price: $29.99



Be the Predator from your favorite action movie with this poly resin constructed full-facemask. Complete with Velcro straps in rear to hold it tightly to your head, this Predator mask can be worn, or displayed with your other movie memorabilia. Includes wall hanging hook. Highly realistic details mirror that of the actual mask worn in the movie. 11" x 8" overall.

---