American Owned and Operated - 100% American Based Customer Service - Custom Laser Engraving - No Accounts Required
Knives and Daggers
Knives and daggers of all types from top manufacturers. We carry Medieval Battle Ready Daggers, Scottish Dirks, Cold Steel knives, Colt, Military Knives like Dark Ops, Leatherman, Mission Knives, Smith and Wesson, SOG, Spyderco, United Cutlery Knives, Gil Hibben Knives, Bowies and Survival Knives.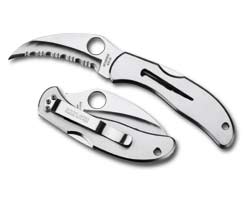 Spyderco Knives:
Harpy Knife
$89.99


Spyderco Harpy Serrated knife is a 3 7/8" closed lockback. It has a VG-10 stainless serrated edge hawkbill blade with thumb hole pull. Knife has stainless steel handles with a stainless steel pocket clip and lanyard hole.
---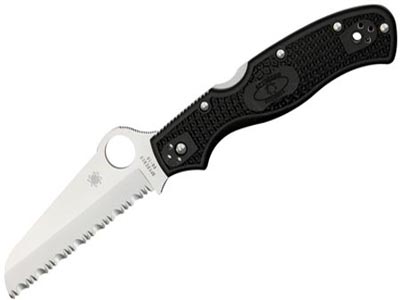 Spyderco Knives:
Rescue 3rd Generation Knife
$89.99


Spyderco Rescue 3rd Generation knife for sale is a 4 3/4" closed lockback knife. Knife features a 3 1/2" hollow-ground VG-10 stainless serrated blunt tip Mariner style blade with oversized thumb hole. Knife has lightweight, ergonomic black fiberglass reinforced nylon handles with bi-directional texturing. Knife also features a black finish stainless four-way reversible pocket clip.
---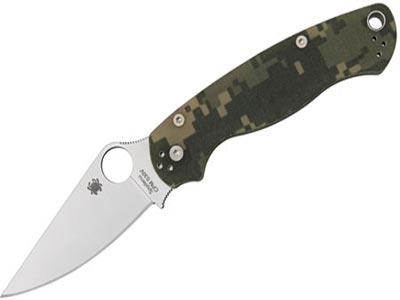 Spyderco Knives:
Para Military 2 Knife
$139.99


Spyderco Para Military 2 knives by Spyderco for sale are a 4 3/4 inch closed linerlock knife. This knife features a full-flat ground CPM-S30V stainless standard edge blade with thumb hole. Handles have a textured digital camo G-10 with enlarged lanyard hole. Knife has a four-way carry stainless pocket clip. Also Features a nested Compression Lock mechanism. This is an improved version of the original Para-Military Knife.