American Owned and Operated - 100% American Based Customer Service - Custom Laser Engraving - No Accounts Required
Display Katanas
Katana Swords and Samurai Swords for display. These very affordable swords are made of stainless steel and designed in traditional and unique styles. These are for display purposes only and some swords include tabletop display stands.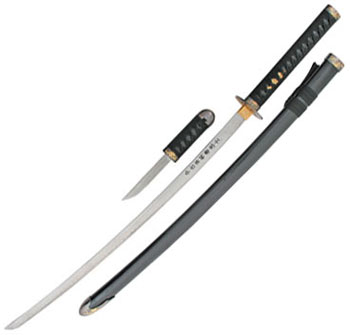 Display Samurai Swords:
Long Samurai Swords With Tanto
$39.99


Long Samurai Swords for sale are 43 7/8th inches overall in length. Featuring a 27 1/8th inch sharpened blade, these samurai swords are outstanding as a display piece. Manufactured of stainless steel, the sharpened blade features a katana style shape. The sword has a simulated temper line, similar to the temper lines found on real authentic samurai swords. The handle features a traditional Japanese black cord wrap. The guard and pommel are crafted of cast metal and finished in a black color. The tsuba has golden samurai art work etchings. The blade has Japanese inscriptions inscribed upon it. What makes this sword additionally special is the mini tanto, or dagger, that is hidden in the handle. The dagger is 10 ¾ inches and has a 5 3/8th inch sharpened, stainless steel blade. These samurai swords also include a black finished composition scabbard. Buy these Long Samurai Swords with Mini Tantos for a popular display item for only $39.99.