American Owned and Operated - 100% American Based Customer Service - Custom Laser Engraving - No Accounts Required
Sword Sets for Sale
Sword Sets for sale are available in a variety of themes. Choices of sword sets include ninja, roman and samurai katana sets. Most ninja and roman sets feature a scabbard that can hold all of the swords. The samurai sword sets typically include a katana and two other Japanese swords along with a tabletop display stand. Buy all kinds of popular sword sets and displays on sale now.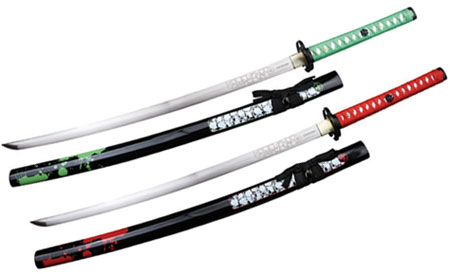 Swords Display Set:
Zombie Samurai Samurai Set
Two Handforged Swords
Includes Display Stand
$159.99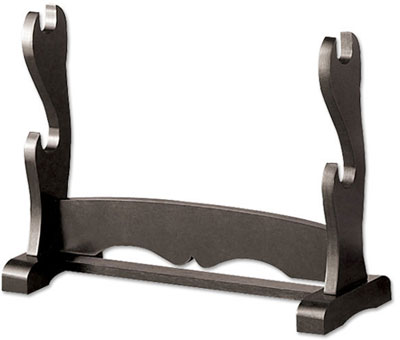 Zombie Samurai Swords Set for sale features two swords and a free display stand. Both 40 ½ inch swords feature a 27 ¾ inch sharpened 1095 high carbon steel blade with skull etchings. The white imitation rayskin handle features a traditional Japanese wrap. One sword features red nylon cord wrap, the other features neon green nylon cord. Both of the samurai swords have a black menuki with the biohazard symbol. These swords are hand forged and have a black aluminum biohazard tsuba and pommel. They have a high gloss black lacquer wooden scabbard that features an undead skull design with biohazard neon green splatter on one and red splatter on the other. They include a free tabletop display stand and both also include cotton sword storage bags. Buy the popular Zombie Samurai Sword Sets with free display for only $159.99.