American Owned and Operated - 100% American Based Customer Service - Custom Laser Engraving - No Accounts Required
Fantasy Swords for Sale
Fantasy Swords for sale include a wide variety of designs. This collection of fantasy swords includes latex and foam swords made for Cosplay, official Kit Rae collectibles and mythical creatures designed for display. Buy fantasy swords, knives and collectibles all on sale now.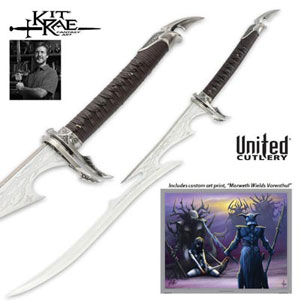 Kit Rae Swords:
Vorenthul Swords of Avonthia
Autographed Edition


The Vorenthul swords are one of the fantasy swords chronicled in Kit Rae's Swords of the Ancients Collection. This sword measures 42 ½ inches overall and has a 29 inch blade. The Vorenthul sword is one of the three swords of Avonthia. The Avonthians were three brothers, sons of a king in ancient times, who were charged with imprisoning the deathless spirit of the Dark One in the depths of the earth. The Samurai style hilt is fitted with a double guard, a tightly wrapped genuine leather grip, and a hooked and pointed pommel spike. The Elven style stainless steel blade is adorned with a deep etched flame design and a laser engraved Kit Rae emblem. Serial numbered and strictly limited to 2000 pieces worldwide, these fantasy swords includes a custom art print titled Morweth Wields Vorenthul. The print is hand signed by Kit Rae.