Fantasy Swords by Kit Rae and Gil Hibben
Fantasy Swords from Kit Rae and Master Sword Maker Gil Hibben. Assorted styles are available. All items are brand new in original manufacturer packaging. All items include certificate of authenticity. New Official Kit Rae Swords and Hibben Swords are added as they are available.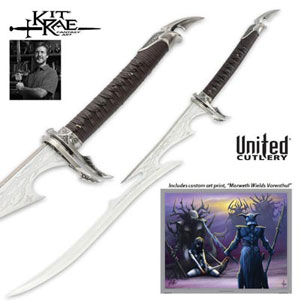 Kit Rae Swords:
Vorenthul Swords of Avonthia Autographed
Price: $139.99


The latest in the Swords of the Ancients(tm) collection. Vorenthul is one of the three swords of Avonthia. The Avonthians were three brothers, sons of a king in ancient times, who were charged with imprisoning the deathless spirit of the Dark One in the depths of the earth (from the Swords of the Ancients mythology). The Samurai style hilt is fitted with a double guard, a tightly wrapped genuine leather grip, and a hooked and pointed pommel spike. The Elven style stainless steel blade is adorned with a deep etched flame design and a laser engraved Kit Rae emblem. Serial numbered and strictly limited to 2000 pieces worldwide. Includes a custom art print hand-signed by Kit Rae, and a certificate of authenticity. Sword has a 29" blade and is 42 1/2" overall.

---