Fantasy Swords by Kit Rae and Gil Hibben
Fantasy Swords for sale include Zombie apocalypse, Walking Dead katanas, LARP swords, designs by Kit Rae and officially licensed movie collectibles. Zombie apocalypse pieces include samurai swords, scimitars and Michonne's sword from the Walking Dead. LARP items are foam and meant for Cosplay. Other fantasy swords for sale are from the Lord of the Rings movie and Hobbit movie. Buy all types of fantasy swords and blades on sale now.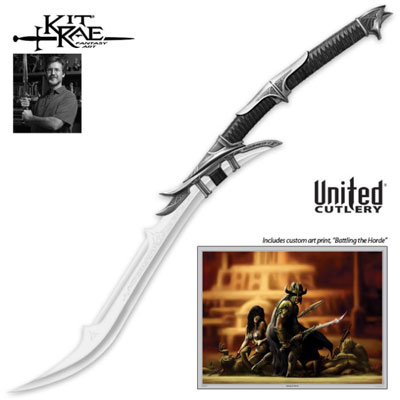 Kit Rae Swords:
Mithrodin Swords
$119.99


Kit Rae Mithrodin Swords for sale are one of the many fantasy swords and weapons chronicled in Kit Rae's Swords of the Ancients Collection, a fantasy story that crosses through numerous centuries and legends and is reminiscent of the works of JRR Tolkien. The Mithrodin Sword is 42 ¾ inches overall. These swords have a 22 ¾ inch, unsharpened 420 J2 stainless blade. They have a solid metal handle with antiqued finish and a leather-wrapped grip. These swords also include an art print titled "Battling the Horde" and include a certificate of authenticity.