Real Swords - Real Knives - Popular Movie Replicas - Flat Rate Shipping - Simple Secure Checkout - No Accounts Required
Movie Swords and Licensed Movie Replicas
Click Here to Buy Movie Swords, Knives, Shields and Official Replicas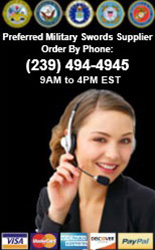 Monthly Specials
Swords and Knives

Cavalry Swords
Bulk Discounts Available

NCO Swords
Bulk Discounts Available

Officer Swords
Military Dress Swords

Army Swords
Functional & Official Models

Marine Swords
Cutlass, NCO & Officer

Military Knives
New Kizylar Supreme Knives

Sword Canes
Functional Sword Canes

Samurai Swords
Functional Samurai Swords

Lord of the Rings
New Hobbit Movie Swords

Shinwa Katanas
Damascus Steel Katanas

Medieval Swords for Sale
Medieval Swords for sale are available in a variety of different styles. Popular items in this category include battle ready, functional, display and collectible designs. Most have historical details or are based off of real swords. Buy all kinds of medieval swords now on sale.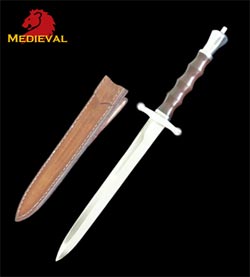 War Daggers
$149.99


Overall Length: 20"
Blade Length: 12"
Handle Length: 8"
Handle Grip: 5"
Cross Guard: 3.5"
Weight: 1lb. 3oz.
Blade Type: Full Tang
Blade Material: Tempered Hand Hammer Forged High Carbon Steel
Handle Material: Custom Finger Grooved Macassar Ebony Wood
Sheath Included: Custom Genuine Brown Leather Scabbard
Medieval War Dagger:This attractive handmade, functional medieval dagger is 20" overall. This dagger features a 12 inch tempered, full tang, fully sharpened, high carbon steel blade. It has a custom finger grooved Macassar Ebony Wood handle. The classic style guard, pommel and all fittings are made of solid steel for durability. A custom brown leather sheath is included.
---
Popular Swords, Gifts, Knives, and New Items
Military Swords, Military Knives, Medieval and Samurai Swords on Sale Now