Medieval Swords and Battle Ready Reenactment Swords
Medieval swords for sale include all types of popular designs. Whether you want to shop for a display sword, cutting sword or for a battle ready reenactment sword, numerous options are available. Display pieces for sale include the legendary Excalibur and the swords of the Knights Templar and Robin Hood. Functional medieval replicas available include Viking and Norman designs. Buy all styles of medieval swords from this great collection.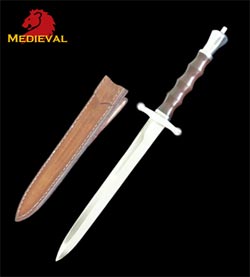 War Daggers
$129.99



Item Number: MDL54179
Handmade Item
Overall Length: 20"
Blade Length: 12"
Handle Length: 8"
Handle Grip: 5"
Cross Guard: 3.5"
Weight: 1lb. 3oz.
Blade Type: Full Tang
Blade Material: Tempered Hand Hammer Forged High Carbon Steel
Handle Material: Custom Finger Grooved Macassar Ebony Wood
Sheath Included: Custom Genuine Brown Leather Scabbard
Medieval War Dagger:This attractive handmade, functional medieval dagger is 20" overall. This dagger features a 12 inch tempered, full tang, fully sharpened, high carbon steel blade. It has a custom finger grooved Macassar Ebony Wood handle. The classic style guard, pommel and all fittings are made of solid steel for durability. A custom brown leather sheath is included.
---