American Owned and Operated - 100% American Based Customer Service - Custom Laser Engraving - No Accounts Required
Sword Sets for Sale
Sword Sets for sale are available in a variety of themes. Choices of sword sets include ninja, roman and samurai katana sets. Most ninja and roman sets feature a scabbard that can hold all of the swords. The samurai sword sets typically include a katana and two other Japanese swords along with a tabletop display stand. Buy all kinds of popular sword sets and displays on sale now.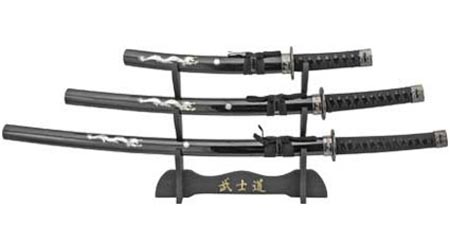 Swords Display Set:
Pearl Dragon Katana Set
Three Sword Set with Display
$69.99


Pearl Dragon Swords Set for sale contains three pieces and a display stand. These swords feature sharpened stainless steel blades with a simulated temper line. The largest sword in the set is the samurai katana. The katana swords measure 36 inches in all and feature a 25 ¾ inch blade. The wakizashi swords are 27 ¼ inches with a 17 ¾ inch blade. The smallest of the swords in the set is the small katana which is 17 ½ inches with a 9 7/8th inch blade. The Pearl Dragon Swords Set features traditional Japanese handles that are wrapped in black cord. The tsuba and pommel are crafted of cast metal with a black and silver finish. The matching scabbard is crafted of wood with a shiny black lacquer paint. This set also includes a black wooden display stand which allows the swords to be displayed on a tabletop or desk. Buy the Pearl Dragon Katana Swords set for $69.99.