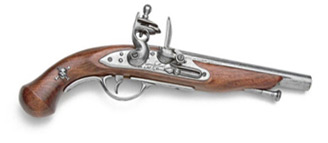 Flintlock Pistols
Pirate Flintlock Pistol
Price: $59.99


Denix Pirate Flintlock Pistol is 13 3/4" overall. Wood stock with antique iron finish cast metal barrel and fittings. This is a fully functional, non firing replica. Made in Spain.
---

Flintlock Pistol
Price: $59.99


Denix Flintlock with pirate theme is 15" overall. it has a wood stock with gray finish sculpted cast metal barrel and hammer. Sculpted cast metal pirate face on butt.
---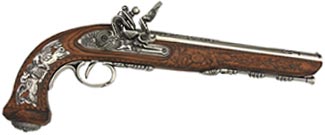 French Flintlock Pistol
Price $69.99


Denix 1810 French Flintlock Pistol Replica is 15 3/8" overall. This decorative fully functional, non-firing flintlock has wood grips with decorative engraving. Antique nickel silver finish barrel and detailed fittings and trim.
---

Pirate Boarding Blunderbuss Pistols
Price: $99.99


Denix Pirate Boarding Blunderbuss. This massive boarding blunderbuss measures 28" in length. It's wide and intimidating barrel, loaded with nails, glass, shot, rocks, or anything else a pirate could get his hands on, would have a broad reach at close quarters. This replica blunderbuss features a flintlock mechanism and full wood stock with a brass finish.
---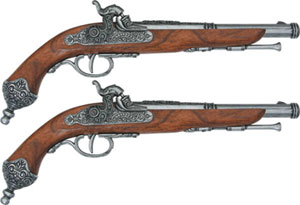 Italian Percussion Dueling Pistols
Price: $89.99


Denix Italian Percussion Dueling Pistols. This is a set of two. Each measures 15" overall. Wood handle with 9" pewter finish barrel. The Percussion Lock was a great improvement over the flintlock as it was less susceptible to weather-related misfires. The original of this pistol was made in Brescia, Italy in about 1825. This non-firing version is accurately detailed and shows typical Italian craftsmanship.
---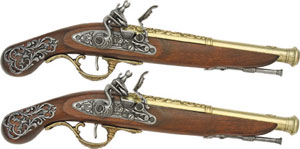 British Dueling Pistols
Price: $89.99


Denix British Dueling Pistols. Reproduction of pistols manufactured in England during the mid 1700's. These two handsome dueling flintlock pistols defended many a man's honor in their day. Guns measure 14 1/2" overall and feature a full length wood stock, simulated brass barrel and trigger guard, and an embossed butt plate.

---

Click Here




Deadwood Fast Draw Revolver

Bat Masterson Revolver

Wild Bill Hickok Revolver

Wyatt Earp Revolver