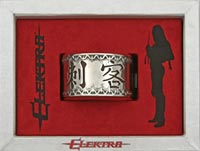 Elektra Arm Band
Price: $24.99


Elektra was a martial arts prodigy and a mercenary for hire. The armbands of Elektra sums up the character in one word "Assassin." An exact replica of the armband worn by the legendary assassin Elektra (played by Jennifer Garner). This wearable collectible is crafted in stainless steel with an adjustable leather arm-strap, this piece is detailed with ancient symbols. Officially licensed product. Limited edition of 1500. Serialized. Includes Certificate of Authenticity.
---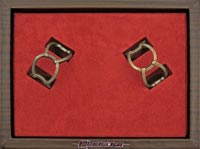 Stone Bracelets from Elektra
Price: $29.99


Stone Bracelets from Elektra . Includes a pair of steel bracelets masterfully aged and detailed in a display case inlaid with red velvet. Limited edition of 2500. This item includes Certificate of authenticity.

---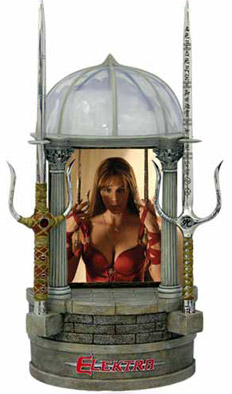 Sai Set of Elektra Wishing Well Display
Price: $129.99


In the heart of a maze, at a well of wishes, the final battle of good & evil. This stunning display commemorates this tremendous battle fought at the ancestral home of the Natchios family. The climatic showdown between Elektra (played by Jennifer Garner) and the Hands hired assassins.
Sai Set of Elektra: Elektra Wishing Well Display is almost two feet high at 22" and weighs almost 17 pounds. This large display detailed display set commemorates the epic battle fought between Elektra and Kirigi. This is a Scaled reproduction of the wishing well seen in the final climatic scene. Made of cast resin construction with detailed brick work. Also includes two authentically replicated detailed stainless steel sais with oriental calligraphy engraving. This is an officially licensed product. It is a limited edition of 2500. Includes a certificate of authenticity.