Celtic Swords for Sale
Celtic Swords in a variety of styles. This category contains Irish swords and daggers for sale. From simple, stainless steel styles to functional, high carbon steel blades, many options are available to select from. We also offer Roman swords, Greek Swords and Spartan swords for sale.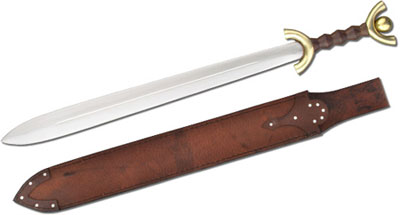 Celtic Swords:
Celtic Swords
Price: $249.99


Our Celtic Sword has an anthropomorphic hilt and leaf-shaped blade. Solid brass hardware, a Macassar ebony grip and leather scabbard make this piece ideal for the Celtic persona. Paul Chen swords are crafted in much the same way as swords were made centuries ago, except now the blades are forged from high-carbon spring steel. The blade finish is far from being polished again more closely replicating what the medieval swordsmith was able to achieve. Except as noted the grips are leather covered hardwood. Fittings are either steel or solid brass. These swords will appeal to the re-enactor who wants a sword with the same appearance as the originals. Overall length is 29 1/2". The blade length is 23" with a handle length of 7 1/4". Sword weighs 3lbs.
---