Stick Swords, Nodachi, Zatoichi Blind Fury Swords for Sale
Stick Swords, Nodachi Swords, Zatoichi and Blind Fury Swords are available for sale. Buy Samurai Swords concealed in a wide variety of canes and sticks. Whether for a Japanese ninja or a master swordsman like Zatoichi, several functional Samurai stick and cane swords are for sale. Shikomi-zue, which translates to prepared cane in Japanese, describes a way of mounting a sword where the blade was concealed in a cane to hide the fact it was a real sword. This concept has been expanded and now there are several styles of stick swords to select from.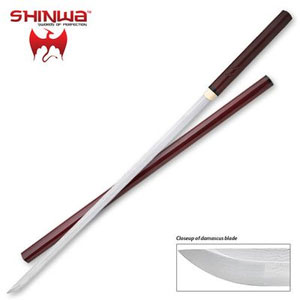 Zatoichi Stick Swords:
Red Damascus Nodachi Swords
$99.99


Red Nodachi Stick Swords for sale have a Silver Damascus steel blade with a substantial blood groove. Similar in design to the sword carried by the blind Samurai Zatoichi and the model carried in the movie Blind Fury, these sticks conceal a real samurai sword. They measure 41 inches overall. The 29 inch functional katana blade is crafted of Damascus steel. Made by Shinwa, they have a sharpened blade that has been heat-forged at over 1000 degrees and folded to over 2000 layers. The handle and scabbard are manufactured of red hardwood. Buy these Nodachi Stick Swords for a piece that features the uniqueness of a black blade with a function stick sword for $99.99.