Stick Swords and Zatoichi Swords for Sale
Stick Swords, Zatoichi Swords and Nodachi Swords in assorted styles and colors. From Damascus Steel full length blades to fully tempered high carbon steel blades.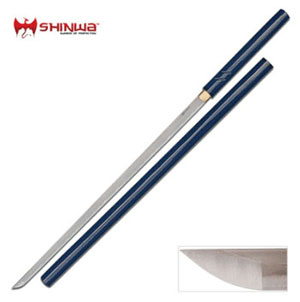 Zatoichi Stick Swords:
Blue Damascus Nodachi Swords
Price: $99.99


Originally designed for blind warriors and used as walking canes when not in battle, the Nodachi has been a favorite among sword enthusiasts. As with all Shinwa swords, this sword has been expertly crafted, heat tempered for superb functionality, and build to perform with a razor sharp edge. The Damascus steel offers 2000 layers of supreme cutting power only found in a Shinwa sword. The blade is 28 1/2" long and slides smoothly into the sleek blue hardwood sheath. Includes decorative box for storage and carry. Item is 38 3/8" overall.