American Owned and Operated - 100% American Based Customer Service - Custom Laser Engraving - No Accounts Required
Zombie Apocalypse Swords
Zombie Swords for sale are available in a variety of colors and styles. These popular swords feature a Zombie Apocalypse motif with the famous toxic green color, bio hazard tsuba and splatter designs. Buy all kinds of Zombie Apocalypse themed swords, machetes and more all on sale now.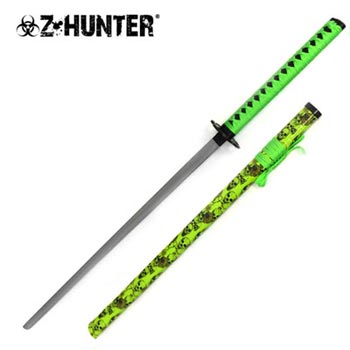 Zombie Apocalypse Survival:
Zombie Ronin Swords
$39.99


Zombie Apocalypse Ronin Swords for sale have a sharpened functional blade. The 17 1/8th inch ninja style blade is manufactured of tempered 420 stainless steel. The blade has a black anti-glare coating. The full tang Zombie Apocalypse Ronin Swords measure 26 ¾ inches in all and include a molded ABS scabbard which features a belt loop. The handle is hand wrapped and tied in a toxic zombie green nylon cord. Buy the popular ninja style Zombie Apocalypse Ronin Swords for only $39.99.