Viking Swords for Sale
Viking Swords in assorted styles for sale. We carry basic stainless steel Viking Swords in traditional styles as well as Damascus Steel Viking Swords, Blunt Bladed Battle Ready Reenactment Viking Swords and fully sharpened Cutting Viking Swords.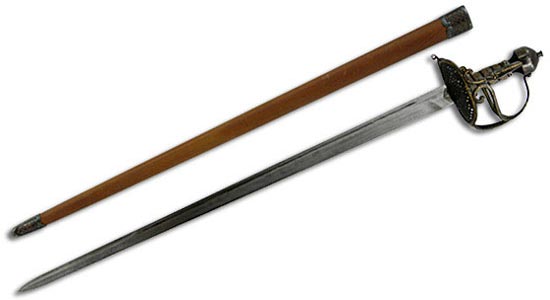 Viking Swords:
Cromwell Swords
Price: $349.99


Cromwell Swords are 43 1/2" overall with a 32 3/4" stainless blade. These swords have a wire wrapped sharkskin handle and a blackened guard decorated in a gold foliage pattern. They are accurate replicas of the original mortuary hilt style sword that was carried by Oliver Cromwell at the 1649 Battle of Drogheda. A brown leather scabbard is included with these pieces, though the original Cromwell Sword lacks one. The historically accurate, highly detailed Cromwell swords have a handle length of 6", weight of 3lb 4 oz, point of balance at 3" and the point of percussion at 21". Guard width is 1.35" and 0.23" thickness. Tip width is 0.77" and thickness is 0.13". Individual specifications may vary slightly per sword.