Real Swords - Real Knives - Popular Movie Replicas - Flat Rate Shipping - Simple Secure Checkout - No Accounts Required
Lord of the Ring Swords for Sale
Lord of the Rings Swords and Hobbit Movie Swords from the epic works of JRR Tolkien and the award-winning film adaptations by Peter Jackson, Swords Direct is pleased to offer the officially licensed movie collectibles, daggers and swords from the Lord of the Rings movies and the Hobbit movies. Officially licensed swords are available from The Lord of the Rings: The Fellowship of the Ring, The Two Towers, The Return of the King, The Hobbit Movie: The Unexpected Journey and The Hobbit: The Desolation of Smaug. These authentically detailed movie replicas are made from the actual film props by Weta Workshop of New Zealand. Made by United Cutlery, each item includes display and Certificate of Authenticity.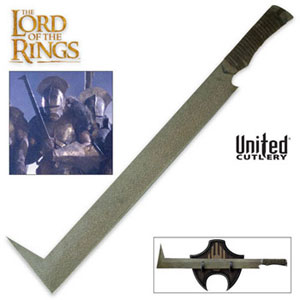 Lord of the Ring Swords:
Uruk-Hai Scimitar Swords
$129.99



Item: UC1309
This officially licensed reproduction sword from The Lord of the Rings is the scimitar wielded by the vicious Uruk Hai. The Uruk Hai were created by the dark lord Sauron, but the traitorous wizard Saruman also developed a stronger version to destroy Rohan by crossbreeding orcs and men. This sword features a 24 3/4" high carbon steel blade and leather wrapped wood handle over the full tang construction. This item offers the exact details from the original piece and includes a display plaque. Officially licensed swords from the movie Lord of the Rings.