United Cutlery Swords for Sale
United Cutlery Swords are available in assorted styles. Officially Licensed movie swords including the Lord of the Rings and The Hobbit Movie Swords are available. Additionally, United Black offers functional Samurai Swords and Tachi Swords with 1060 Damascus steel. The blade tang has an exclusive stamp that can only be found on a United Black sword blade.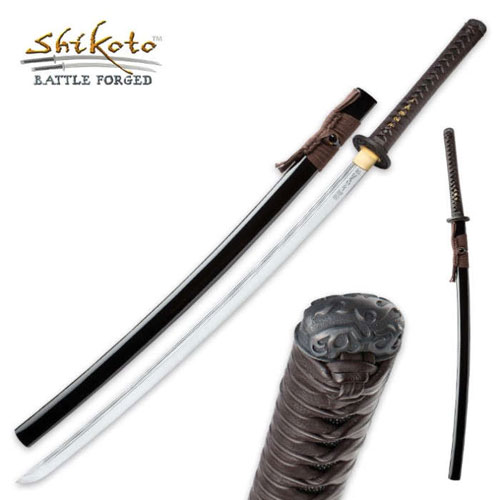 United Cutlery Swords:
United Black Shikyo Forged Katana Swords
$159.99


United Cutlery Swords for sale include the Shikyo Bushido Katana from the Black Collection. The word Shikyo roughly translates to the Japanese word for four mirrors. The Shikyo are four Japanese historical stories from Japanese literature called the Rekishi monogatari. United Cutlery manufactured this piece in homage to the Shikyo. The Shikyo Bushido Katana Sword measures 43 1/8th inches overall and features a mirror polished 29 ½ inch sharpened blade. The functional blade is crafted of heat-forged 1045 carbon steel with a heavy blood groove. The blade tang features the United Cutlery Black stamp, a stamp that is exclusively reserved for use on the blades of swords in the popular United Cutlery Black Collection. The hardwood handle offers traditional black ray skin. The custom leather wrap is accented with brass menuki. These swords also feature a distinctively designed cast metal guard and pommel. These handsome Japanese Bushido swords include a hardwood sheath which features custom cloth cord wrapping that coordinates with the handle.
---