American Owned and Operated - 100% American Based Customer Service - Custom Laser Engraving - No Accounts Required
Tai Chi Swords for Sale
Tai Chi Swords for sale are available in a variety of styles. Chinese and martial arts swords include the traditional Tai Chi Jian, practice and cutting swords. Buy all type of Tai Chi and Chinese swords on sale now.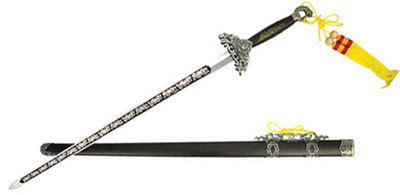 Tai Chi Swords:
Tai Chi Swords
Yellow and Red Tassel
$99.99


Tai Chi Swords for sale measure 38 ½ inches overall. The blades are manufactured of stainless steel. The blades feature an ornate engraving of a dragon. These Tai Chi swords have a metal handle and an ornamental yellow and red colored tassel. These swords also include a coordinating custom black scabbard. The scabbard features silver metal fittings. Buy these popular Tai Chi Swords for only $99.99.