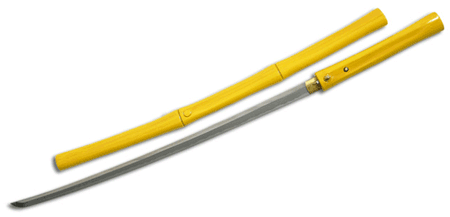 Zatoichi Stick Swords:
Bamboo Katana Stick Swords
Price: $499.99


Bamboo Stick Katana Swords have a full length straight katana disguised in a carved bamboo scabbard. The handle is also crafted from bamboo. The blade, or nagasa, is hand forged in 1065 high-carbon steel. Bamboo Stick Katana Swords are differentially hardened using the traditional claying method. Individual specifications may vary slightly per sword.

Overall Length: 39 1/4"
Blade Length: 27 1/4"
Handle Length: 11 1/2"
Blade Material: Differentially hardened 1065 high carbon steel
Weight: 1 lb 13 oz
Width at Guard: 1.12"
Width at Tip: 0.75"
Thickness at Guard: 0.26"
Thickness at Tip: 0.17"
Point of Balance: 5 1/2"
Sori: 3/4"

---