American Owned and Operated - 100% American Based Customer Service - Custom Laser Engraving - No Accounts Required
Ninja Swords for Sale
Ninja Swords for sale are available in all types of sizes. Ninjato, Ninjaken or Shinobigatana are the names used for the type of sword wielded by the Ninja of ancient Japan. Although the traditional length was short, full length swords with a square tsuba have also become referred to as Ninja Swords. Buy all types of functional and display Ninja Swords on sale now.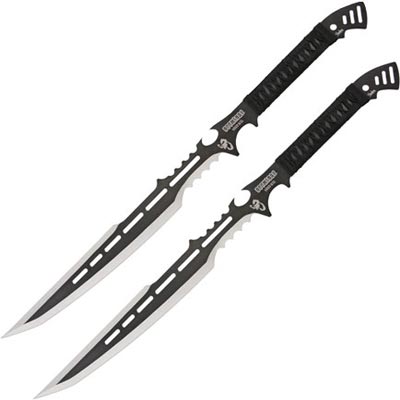 Custom Swords:
Slayer Swords and Knife Set
$39.99
Slayer Sword and Knife Set for sale contains three pieces that are each constructed from a solid piece of steel. They have sharp stainless steel blades with a non-reflective black coating. The knives are 6 ½ inches in all. The sword is 27 inches in all. They have toxic green colored cord wrapped handles. The set includes a nylon scabbard with a shoulder sling. Buy the Slayer Swords and Knife Set for only $39.99.