Samurai Helmets for Sale
Samurai Battle Helemts in assorted styles by Hanwei. These full size wearable helmets have a cloth lining. The neck protectors are decorated with colorful cord embellishments. Items include a wooden display stand.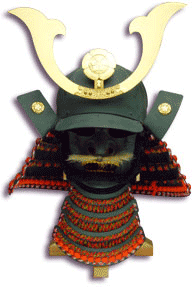 Samurai Helmets:
Oda Nobunaga Samurai Helmet with Mask
Price: $379.99


Samurai Warrior battle helmet of Oda Nobunaga. The Kabuto (Helmet) is made of dark green finished metal. Decorative brass head piece with with Menpo (Mask) is included. Superbly constructed and beautifully detailed. This is a full size wearable helmet with cloth lining. Neck protector is decorated with colorful cord embellishment. Includes a wooden display stand. Made by Hanwei.