American Owned and Operated - 100% American Based Customer Service - Custom Laser Engraving - No Accounts Required
Paul Chen Swords
Paul Chen Swords in assorted styles for sale. These are functional Swords made by the Hanwei forge. We carry the Tactical Katana Series, Practical Katana Swords, Musashi Katanas and other popular sword collections. Competitive cutting XL Katana blades are also available. These wide blades will reward good technique with clean cuts and excellent durability.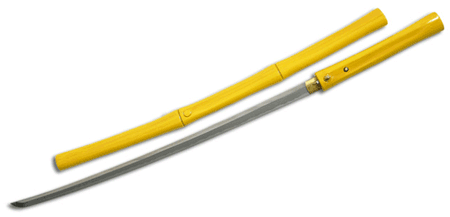 Zatoichi Stick Swords:
Bamboo Katana Stick Swords
Premium Samurai Stick Sword
$599.99


Bamboo Stick Katana Swords have a full length straight katana disguised in a carved bamboo scabbard. The handle is also crafted from bamboo. The blade, or nagasa, is hand forged in 1065 high-carbon steel. Bamboo Stick Katana Swords are differentially hardened using the traditional claying method. Individual specifications may vary slightly per sword.

Overall Length: 39 1/4"
Blade Length: 27 1/4"
Handle Length: 11 1/2"
Blade Material: Differentially hardened 1065 high carbon steel
Weight: 1 lb 13 oz
Width at Guard: 1.12"
Width at Tip: 0.75"
Thickness at Guard: 0.26"
Thickness at Tip: 0.17"
Point of Balance: 5 1/2"
Sori: 3/4"