Ninja Swords for Sale
Ninja Swords in assorted styles for sale. Basic full tang stainless steel Ninja Swords to functional high carbon steel Ninja Swords in traditional and modern styles. All black full tang Damascus Steel Ninja Swords and Hanwei Practical Ninja Swords are also available.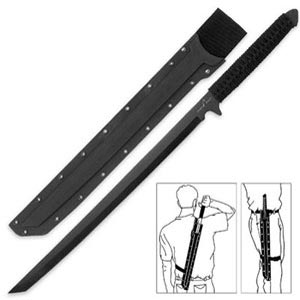 Ninja Swords:
Ninja Swords with Tactical Scabbard
$39.99


This is a ninja sword that is one solid piece of black anodized, full tang 420 stainless steel. It stretches 27" overall with a 17 1/4" razor sharp cutting edge. The nylon cord wrapped handle offers a no-slip grip for sure wielding and precision strokes. This item includes an impact resistant ABS nylon stactical scabbard.