American Owned and Operated - 100% American Based Customer Service - Custom Laser Engraving - No Accounts Required
Military Knives for Sale
Military Knives and Tactical Knives of all types from top manufacturers. We carry popular knives from FirstEdge, CRKT, Extrema Ratio, Zero Tolerance, Cold Steel, Smith and Wesson, SOG Knives, Gil Hibben Knives, Kizylar Supreme, Kabar, Kershaw and more.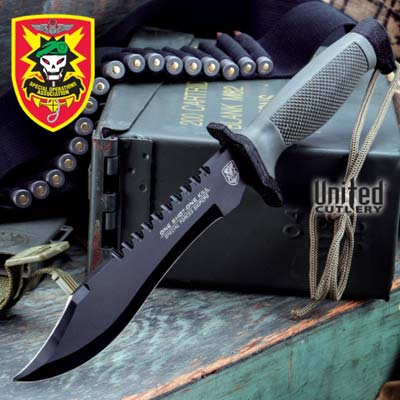 Military Knife:
S.O.A. Survival Knife
Custom Sheath
$29.99


Military SOA Survival Knife for sale measures 12 inches in all. The highly sharpened blade is crafted of stainless steel. The blades measure 7 inches. These military knives include a reinforced multi functional sheath. The knife is imprinted with the words One Shot, One Kill below the saw back top edge. The blade is also imprinted with the words Special Forces Snipers and a military emblem featuring a skull wearing a beret with the initials SOA imprinted below it. These military survival knives have a lanyard and a rubber covered handle which provides an exceptional grip. Buy this Military SOA Survival Knife for $29.99.