American Owned and Operated - 100% American Based Customer Service - Custom Laser Engraving - No Accounts Required
Legacy Arms Swords
Legacy Arms Swords has created battle ready, medieval swords for sale that offer both function and beauty. This collection of medieval swords presents blades made of 5160 tempered, high-carbon steel with a tough apple-seed edge and full tang construction. Incorporating historically accurate designs, many of these items are modeled after real swords used throughout the ages. Buy swords in a variety of styles from Legacy Arms and Generation 2.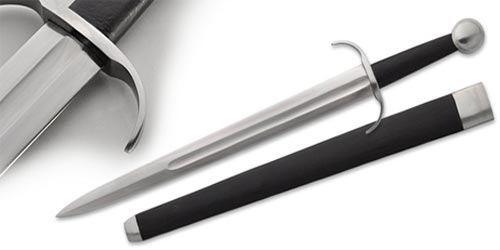 Legacy Arms Swords:
Knight's Riding Swords
Functional Sharpened Blade
$229.99



Legacy Arms Knight Riding Swords for sale are designed after real swords that were used by knights during medieval times. They measure 29 inches in all. These functional swords are hand tempered and feature a 21 inch sharpened blade. The blade is hand forged of 5160 high carbon steel and securely peened at the pommel. The popular Knight Riding Swords have a 5 ¼ inch black leather covered wooden handle. They weigh approximately 2 pounds, 9 ounces. They have a point of balance at 1 7/8th inch below the hilt. The Knight Riding Swords have a width at the tip of 1 ½ inch at the fuller end and a guard width of 2 inches. The hardwood scabbards are covered in black leather with steel accents at the tip and throat. These swords are hand made by Legacy Arms. Buy the Knight Riding Swords for $229.99.