Reenactment Swords:
Practical Hand-and-a-Half Swords Blunt
Price: $249.99


These Medieval Swords are 43 3/4 inches overall. Practical Hand-and-a-Half Swords have a 34 1/4" unsharpened fully tempered steel blade with rounded tip. Handles has a black leather grip with metal cross guard and wheel pommel. A custom wood scabbard is included.
---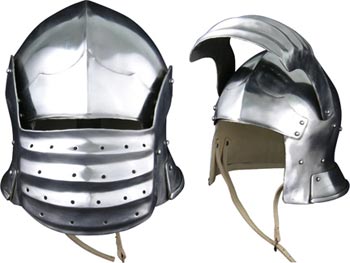 Get Dressed For Battle
Bellows Faced Sallet
Price: $189.99


Bellows Faced Sallet Battle Helmet. This high quality, historically accurate Medieval reproduction battle ready helmet is made of 14 gauge steel. Visor is made of one piece from 14 gauge steel. Includes an authentic linen liner on the interior for comfort. Also includes a leather chin strap and period buckle is fitted. Made by Get Dressed For Battle (GDFB).