American Owned and Operated - 100% American Based Customer Service - Custom Laser Engraving - No Accounts Required


Reenactment Swords:
Hand-and-a-Half Swords
Blunt Reenactment Blade
$249.99


These Medieval Swords are 43 3/4 inches overall. Practical Hand-and-a-Half Swords have a 34 1/4" unsharpened fully tempered steel blade with rounded tip. Handles has a black leather grip with metal cross guard and wheel pommel. A custom wood scabbard is included.
---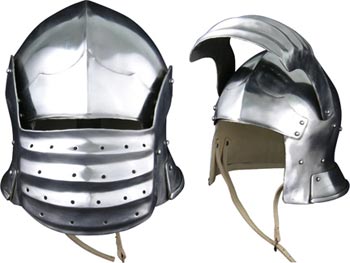 Get Dressed For Battle
Bellows Faced Sallet
$199.99


Bellows Face Sallet Helmets for sale are battle ready helmets that weigh 6 pounds 8 ounces. The Bellows Face Sallet is inspired by popular headpieces used in medieval Europe during the 15th century. This Italian style Sallet helmet has short, rounded tails that closely fit to the back of the neck. The bellow style visor is extended on this helmet much like transitional helmets, circa late 15th century, that existed between sallets and the 16th century Maximilian style. These battle ready medieval helmets are designed for reenactment. They are manufactured of 14 gauge steel and have an adjustable leather liner and chinstrap. This large helmet can hold a forehead circumference up to 25 inches. Buy these Battle Ready Bellows Face Sallet Helmet for $199.99.