American Owned and Operated - 100% American Based Customer Service - Custom Laser Engraving - No Accounts Required
Pirate Swords for Sale
Pirate Swords for sale are available from several manufacturers and in a variety of styles. Decorative and display cutlasses are light and an ideal choice for awards and ceremonies. Cutlasses and cupped handle designs are popular for costumes, pirate themed and naval themed weddings and for stage. New pirate hats, boots and costumes are all on sale now. Buy all types of pirate swords, scimitars and cutlasses for display and reenactment.


Pirate Swords:
King Raider Scimitar Swords
Includes Custom Scabbard
$229.99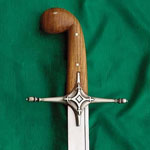 King Raider Scimitar Swords for sale are modeled after Persian war swords that were used in the 18th Century. These functional swords measure 36 inches in all and feature a 30 ½ inch long unsharpened blade. The blade is crafted of high carbon steel. The wooden grip of these scimitar swords features a steel guard and pommel. The guard is engraved with intricate medieval designs which give the sword a pirate style twist. The scabbard features steel rings, a steel throat and tip. These scimitar swords weigh approximately 1 pound, 8 ounces. Buy these popular King Raider Scimitar Swords for $229.99.
---
Sharpen This Sword - Add $20 - Price: $249.99