Masahiro Swords for Sale
Samurai Swords in assorted styles for sale by Masahiro. These are affordable full tang Samurai Swords, Bushido Swords, Japanese Swords and specialty design Samurai Swords. These are functional, sharpened, high carbon steel swords.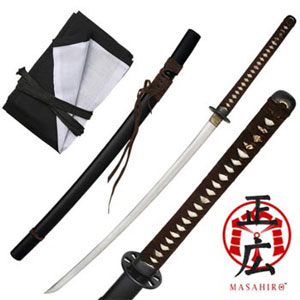 Japanese Swords:
Japanese Swords with Extended Handle
Price: $119.99


Swords by Masahiro, these swords are 45" overall. It has a 29" blade with a 13" handle. Sword is hang forged with high carbon steel 1065 with uno jubi zukuri shape. It has an extra long 13" wrapped with real ray skin handle. Double pegged tsuka for security with suede leather sageo. Round Kuruma tsuba with the "Wheel of Kharma" symbolizing the Buddhist concept of the Noble eight fold path. Includes black cotton sword bag.