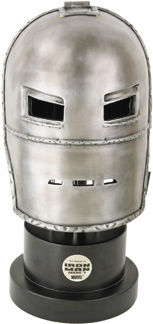 Iron Man Mark I Helmet



Marvel Iron Man Mark I Helmet. This beautiful collectible is a full size, wearable prop replica of the helmet worn in the movie Iron Man. The helmet measures approximately 12" high x 9" wide x 9 1/2" deep. It is hand forged steel construction. Helmet is hinged at the top for easy removal. It is suede lined for comfort. The helmet includes a display stand and a certificate of authenticity. This is a limited edition piece. Only 500 were produced. Get yours today.

---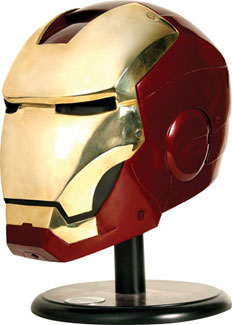 Iron Man Mark 3 Helmet



Marvel Iron Man Mark 3 Helmet Replica. This "final" version of Tony Stark's incredible Iron Man armor is the peak of human technological achievement. Detailed prop replica, based on the actual hero prop provided by Stan Winston Studios. Only 1500 will be made. Expertly hand formed steel, with the classic color scheme of plated brass and the deep crimson we've all come to know as the ultimate Iron Man. This full scale replica features a hand numbered certificate of authenticity. Measures 9" tall x 13" long x 8" wide.